Hash Rate - September 2018
Hi folks and welcome to the latest edition of HashRate!
Despite the feverish attention that blockchain technologies receive these days, there are still likely no than 1 million daily active users (DAUs) of cryptocurrency — excluding investors and traders.
Unless of course you consider HODLers to be DAUs.
While there are no shortage of informative news websites and well-curated newsletters dedicated to current events and developer updates in the crypto space, there remains very limited data on one of the most intriguing questions — how are people actually using various tokens and cryptocurrencies today? And where? Many of the most compelling early stage applications have been in emerging markets. To find out, check out the latest edition below.
If you missed the previous edition which covered Iran, South Africa, and Venezuela, you can read it here. As always please get in touch with questions, comments, or feedback!
---
Myanmar
Problem: The Rohingya have been denied citizenship in their home country of Myanmar for decades. Most recently, the Muslim minority was the target of violence by the military which culminated in August 2017. A "clearance operation" led by Buddhist militia sent more than 700,000 Rohingya pouring over the border into Bangladesh, without passports or official ID. The Myanmar government has since agreed to take the Rohingya back, but are refusing to grant them citizenship. Many Rohingya do not want to return and face life without a home or an identity.

Proposed solution:  A small team is currently trialling a blockchain-based technology solution using digital identity cards that aim to help Rohingya in Malaysia, Bangladesh and Saudi Arabia access services such as banking and education. The hope is that successful trials might lead to a system that can help the community across southeast Asia.

Who is building it: Muhammad Noor and his team at the Rohingya Project

How it works: Under the scheme, a blockchain database is used to record individual digital IDs, which can then be issued to people once they have taken a test to verify that they are genuine Rohingya.

Current usage: At this stage, the Rohingya Project's main objective is to address the most prominent issue facing stateless peoples: financial exclusion. However, Noor's goal is to give Rohingya the power to reclaim their identities with a resilient system that their host countries will recognize, allowing them access to social programs, legal rights, education and healthcare.

Relevant related efforts: Tufic Al Rjula's birth certificate was destroyed in Kuwait during the first Gulf war. Living for two years in a Dutch refugee camp as he worked through the asylum process, and experiencing how centralised, paper-based IDs such as birth certificates, drivers licences and degrees can easily be lost, forged or misused, Al Rjula co-founded award-winning startup Tykn with Jimmy Snoek. Companies such as Tykn still have to tackle plenty of the same issues as their old-fashioned database-using counterparts, from convincing governments and NGOs to use their services in the first place to working out how to make enough overhead to pay staff, while also dealing with the fickle issues of building on a cutting-edge platform.

Around the horn:

Signatures , identities and data is all outside the blockchain. A useful thing is to sign application logs with PGP and time stamp a chain of signatures, even include Bitcoin block headers to prove it didn't exist before sometime. Or centralized/distributed financial ledger.
August 24, 2018
Identity *data* on the blockchain is definitely not a good idea. However, public blockchains are the best system we've ever had for anchoring *identifiers and DPKI operations*, which are the essential foundation for self-owned identity.
August 28, 2018
---
Kenya
Problem: Most elections in Kenya since the advent of multi-party democracy in 1991 have been fraught with claims of widespread rigging that often results in deadly violence. Opposition leader Raila Odinga rejected the outcome of two presidential polls last year, with the first annulled by the Supreme Court, which cited massive irregularities.

Proposed solution: Kenya's electoral agency intends to use blockchain technology to offer real-time results, as part of reform efforts to enhance the integrity of voting.

Who is building it: Kenya's Independent Electoral and Boundaries Commission

How it works:  Distributed-ledger technology would be used to verify and record cryptocurrency transactions to boost transparency and reduce perceptions of opacity, and to enable presidential candidates to securely access results.

With a grain of salt: It seems that various crypto media outlets write a new headline every week on how a country plagued by interference in political voting processes is now using a blockchain-based solution for their upcoming election. Tread carefully on such reporting as many subject matter experts on electronic voting systems and distributed systems are skeptical of such claims. At present, blockchains appear to work well for audits — not for elections.

Around the horn:

Matt Blaze, Associate Professor of Computer and Information Science (CIS) at University of Pennsylvania:


Every expert on voting security: use precinct counted optical scan ballots and risk limiting audits.

Internet: I don't know what that is, but here's my idea I spent 10 minutes on that I'm sure is better.

Experts: Your idea doesn't work.

Internet: But it has blockchain.

August 24, 2018

Strong sign @mattblaze isn't actually attacking blockchain in elections for technical reasons, but rather political/personal grudges.

I'd be surprised if you couldn't come up with some kind of reason to make use of a blockchain in an election. E.g. notification, timestamps, etc. https://t.co/c6Um2Mzehw

August 28, 2018

"The blockchain space today, with predictable results, continues its tradition of ignoring decades of study and instead opts to implement the most naive possible form of voting..." https://t.co/H4NGPuQeJ3

July 28, 2018

Yes, for the Scantegrity election in Takoma Park 2011, we used Bitcoin's blockchain to provide strong time stamping of some pre-election commitments. We wrote about it in an FC paper and what problem it solved for us. https://t.co/c6YvlZ4mND

August 29, 2018

---
Zimbabwe
Problem: At the moment, it's difficult to regulate public transit in Zimbabwe — in terms of price gouging, safety and taxation — because vehicles are mostly operated by individual drivers and owners. Transparent blockchain records of tax revenue could be useful for establishing trust in a country fraught with accusations of bureaucratic corruption. Following the hyperinflation cycles over the past decade, many citizens lost their savings and pension investments. Now most Zimbabweans use imported U.S. dollars because they no longer trust local bonds or banks.

Proposed solution: Kuvacash got a license to import dollars and is now deploying local agents who can help users cash out in person for fiat bills as needed. By 2019, Kuvacash aims to offer both peer-to-peer payments and crypto-powered transit accounts through a wallet app to anyone in Harare.

Who is building it: Zimbabwean national James Saruchera founded Kuvacash, seeded with a grant for roughly $550,000 worth of the cryptocurrency from the Dash Treasury DAO, a pool of mining rewards that allows dash fans worldwide to submit proposals and vote on which ideas get funding.

Current usage: Saruchera is getting ready to pilot Kuvacash's mobile payments app with 100 users in October and negotiating with the government of Harare, Zimbabwe's capital, to build a dash-powered transit app for an upcoming tram line. Representatives from the municipality of Harare confirmed they are negotiating a transit deal with Kuvacash, although it is not yet finalized. If all goes according to plan, commuters will use the mobile app pay for tram rides with Dash (DASH), an open source cryptocurrency, which Kuvacash will promptly convert back into U.S. dollars for the tax collector.

Relevant related efforts: The Dash Treasury DAO alone has granted over $33 million-worth of dash since 2015, $2.3 million of which went to projects in developing countries such as Zimbabwe, Ghana and Kenya. That number is clearly ramping up as the community shifts strategies. Out of 27 grants in the developing world, 20 of those proposals have received funding over the past 12 months. The August 2018 payout alone is expected to give around $920,273 worth of dash, including grants for programs in Venezuela and Brazil.
Quick Hits From Around the Web
---
We the jury find you guilty of chart crimes against humanity. You're sentenced to a lifetime ban from analog charts pic.twitter.com/cqGTOkkAB8
August 27, 2018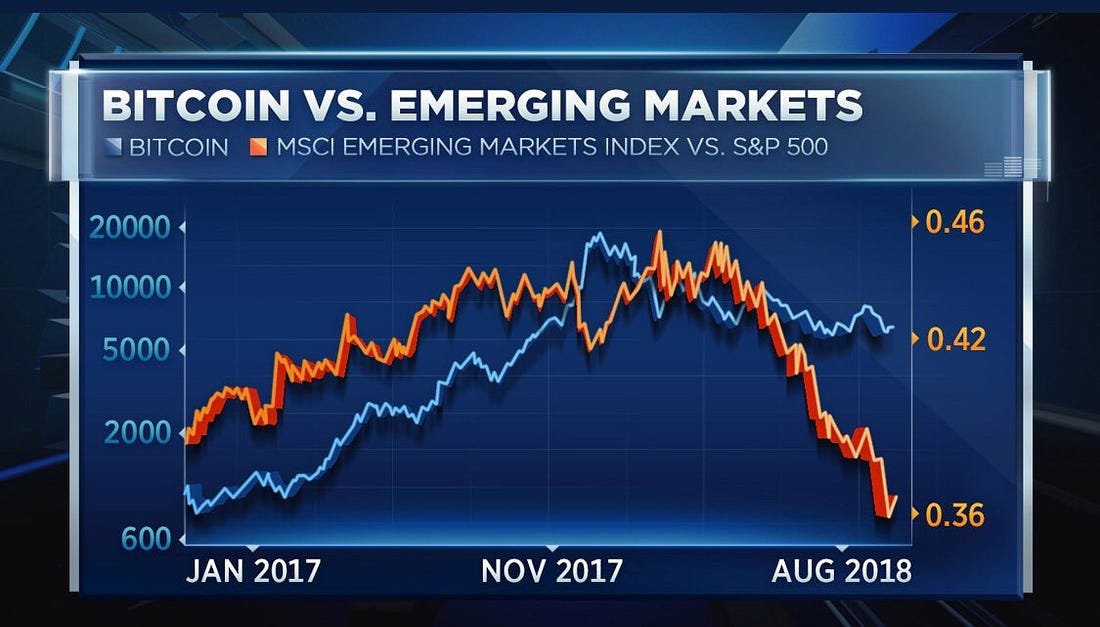 Oh gosh, this is horrid. I don't think I've seen a chart before comparing a logarithmic series with a linear series on the same chart. that's 1 of at least 3 crimes here.
August 27, 2018
Send them directly to The Hague
August 27, 2018
---
Crypto vs. Fiat Currency returns... pic.twitter.com/3g4q5s8hhs
September 2, 2018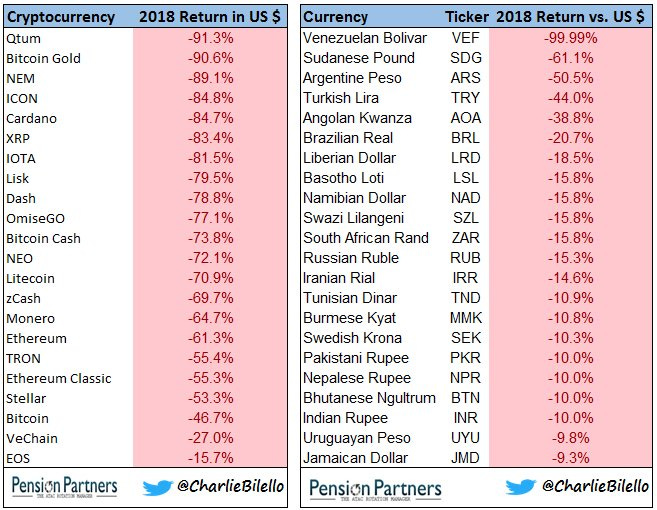 ---

The rest of South America is learning from Venezuela.

You get a lot less Bitcoin if you buy it after hyperinflation occurs.

Argentina, Chile, and Peru have all been breaking exchange volume records on LocalBitcoins this summer. pic.twitter.com/e9JPt1Iucx
August 27, 2018
---
If you'd bought a million dollars in Venezuela's local currency when President Nicolás Maduro came to power in 2013, it'd now be worth $3.40. https://t.co/ejhDUUXXow pic.twitter.com/iMfEFaNVou
August 22, 2018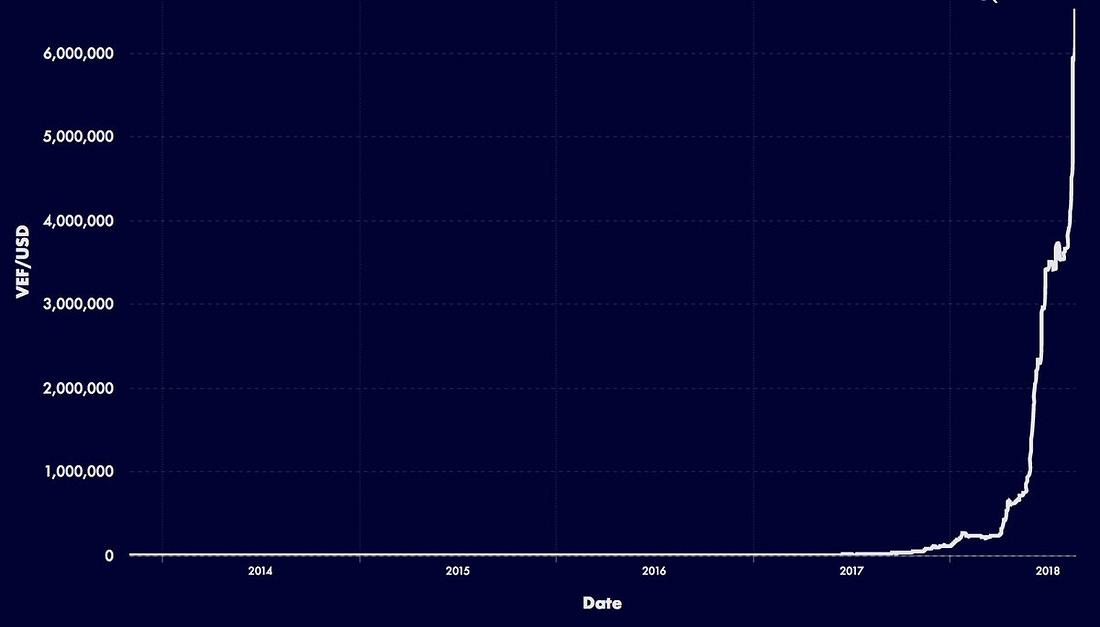 ---
Bitcoin isn't about getting your money out of your country.

It's about getting your country out of your money.
August 17, 2018
Bitcoin is not trying to gain legitimacy on Wall St.

Wall St. is try to gain legitimacy in Bitcoin.
August 16, 2018
---
If you doubt the utility of #Bitcoin then simply mentally transport yourself to any of the following:
Turkey, (today)
South Africa (coming soon)
Brazil, (today)
Zimbabwe, (past and present)
Argentina, (past)
Venezuela (today)
Cyprus (past)
September 4, 2018
---
Eric Meltzer@wheatpond Aug 22
This Chinese ban on crypto events and crypto media is a complete nothingburger. China banned exchanges last year around this time, if you want a picture of how effective a media ban will be, have a look at the Chinese exchange scene
Eric Meltzer@wheatpond Aug 22
Most of the Chinese crypto media have their own dedicated apps anyway, and are minimally affected by the "media ban." Every part of the stack, from media to OTC to exchanges, is becoming more and more resilient.
HoIy shit, just spoke with someone based in Beijing who told me that the reason why these crypto media outlets got shut down is because they reported on the vaccination scandal that bypassed censorship via the Ethereum blockchain. This is WILD. (https://t.co/vGkcUBNs3z)
August 21, 2018
A landmass smaller than Manhattan in Chinese province made a futile decision to 'ban crypto' and your on CNBC talking about how China as a nation re-banned crypto, the level of lack of understanding on this show is criminal.
August 26, 2018
---
Thanks for reading this latest edition of HashRate!
Do you know of a blockchain technology project currently deployed that is solving a real problem in a global market? Is there a token you are currently using in emerging markets? We would love to here more about it — get in touch with us here!
Since June 2016, we've been helping subscribers learn about the adoption of cryptocurrencies across global markets. Not yet a subscriber? Sign up for HashRate here!