HashRate – August 2018
Find out how cryptocurrencies are being used on-the-ground in international markets
Despite the feverish attention that blockchain technologies receive these days, there are still likely no more than 1 million daily active users of cryptocurrency (excluding investors and traders).
While there are no shortage of news websites and well-curated email newsletters dedicated to current events and developer updates in the crypto space, there remains very limited data on the most important question — how are people actually using tokens and cryptocurrencies today? And where?
As a longtime provider of independent investment research and analytics on emerging markets, this is the primary focus of HashRate.
Find below the latest edition, and as always please get in touch with any comments or feedback!
---
Venezuela

---
South Africa
Problem: Transaction fees and other financial services present a challenge for many consumers across emerging markets

Proposed solution:  A borderless, rewards-driven, zero-fee financial platform, which lets users access remittance, savings, and credit services.

Who is building it: Wala, a crypto currency startup based in South Africa

How it works: Built on the Ethereum blockchain, Wala is removing barriers to financial services and providing millions of consumers in emerging markets with a zero-fee, "better-than-banking" solution. 

Current usage: The cryptocurrency, Dala, is currently being used in a number of countries across Africa. It hit 100,000 new wallets and 2.5 million in transactions in the first two months following its launch in April 2018. The average transaction size is approximately $0.27.

How are Wala's users using Dala today? Podcast with Tricia Martinez, director of the Dala Foundation and founder and CEO of Wala — Unconfirmed: A Place Where People May Be Using Crypto For More Than Speculation @laurashin @TriciaTita
---
Iran
Problem: Iran's currency traded at a record historic low of 119,000 to the dollar on Tuesday July 31, a loss of nearly two-thirds of its value since the beginning of 2018. The velocity of the crash of the Iranian rial increased as the country braced for the reimposition of full US sanctions, which were reinstated on August 6.

A proposed solution:  The Iranian government, despite banning bitcoin and similar digital currencies in April 2018, announced that it will launch its own national cryptocurrency and reported in late July that the "plan to create an indigenous cryptocurrency" was moving forward.

Who is building it: The Central Bank of Iran, in conjunction with the Scientific and Technological Issues Office, and a select number of "domestic knowledge-based companies".

Related chart: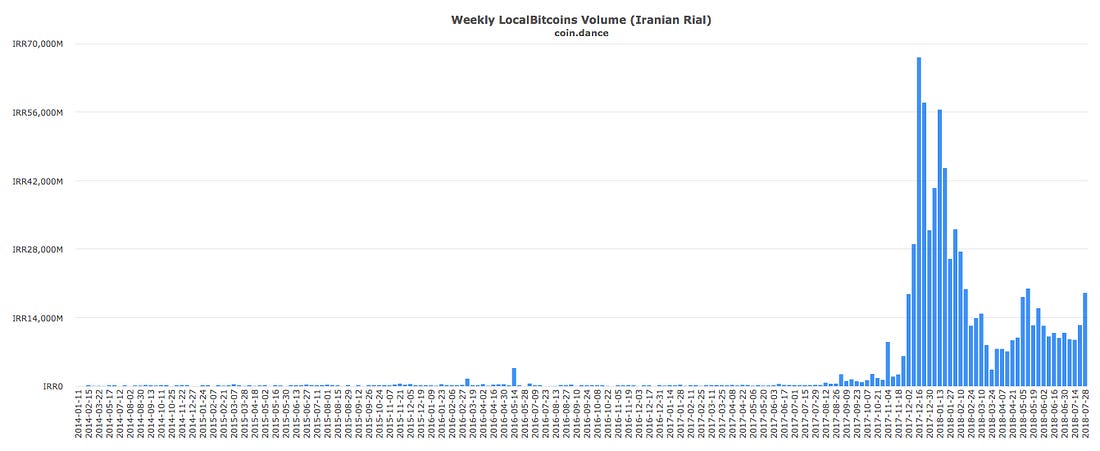 Are there on-ramps to BTC/ETH in Iran? Are crypto-rials fungible with other crypto? Seems more likely this will just flame out rather than backfire.
July 27, 2018
No, but DEX will be if the token is permissionless. If it's not, the sanction-avoidance benefits go away.
July 27, 2018
---
Quiz
Binance, the world's largest cryptocurrency exchanges, does not operate a crypto-fiat exchange in the US, China, Japan, or any other major market. They offer a crypto-fiat exchange in only one country in the world. Which country is it? (answer below)
---
Bits from Around the World
Yesterday the Turkish lira suffered its worst daily loss (in net terms) since 2001. Practically no Turkish newspaper dares to cover this on its front page. pic.twitter.com/4raUqZoRQn
August 7, 2018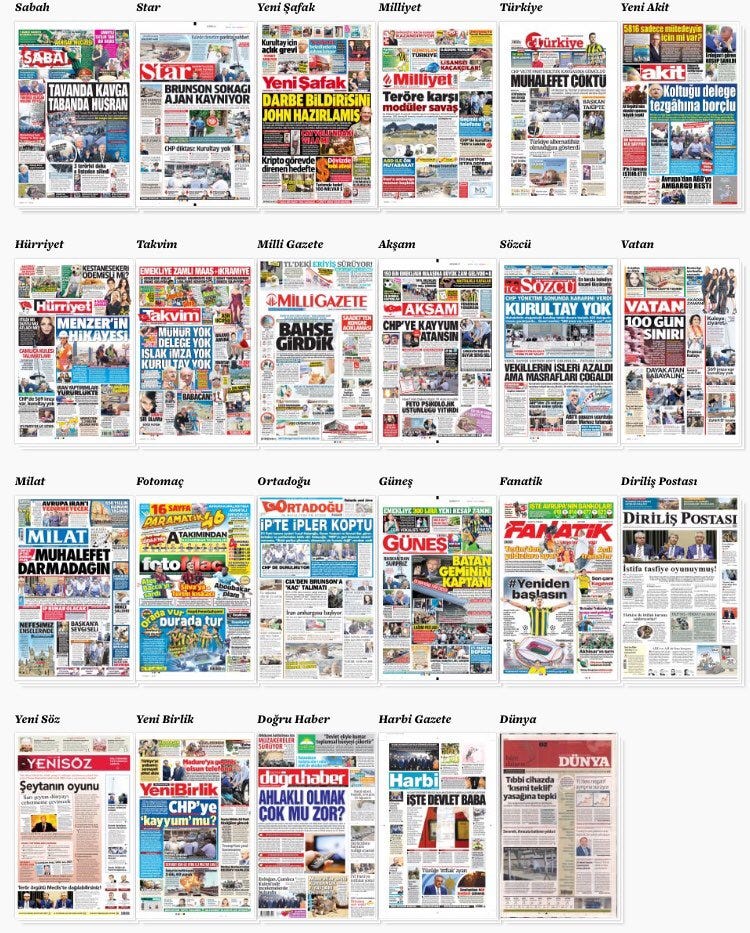 We need censorship-free money to fight censorship. https://t.co/eC5WczW3qP
August 7, 2018
And it wouldn't hurt if said censorship-free money were immune to inflation.
August 7, 2018
---
Latvia — waiting in the wings: airBaltic, the national Latvian airline, flies to over 60 destinations in Europe and beyond from Riga, Vilnius and Tallinn. The airline accepts Bitcoin as a payment method, and can be settled from desktop, web or their mobile wallet application.

---
China — Bitmain Technologies (headquartered in Beijing): Bitmain, the world's largest cryptocurrency mining company, recently revealed plans to conduct an initial public offering in Hong Kong, or in another overseas market with U.S. dollar-denominated shares. The IPO would give early investors, including Sequoia Capital and IDG Capital, an opportunity to cash out.

Controversial thought that might get me hacked or swatted:

If @JihanWu were American, he'd be the most admired man in crypto (and BCH wouldn't exist)

Profits: $1.1bn in '17, $1bn in Q1
Growth: The company is getting into AI more aggressively than cryptohttps://t.co/uB79KkeAOA
July 30, 2018

"If data is the new oil, computing power is the new steel. Just as Andrew Carnegie led the expansion of the steel industry in the 19th century, @JihanWu is leading the expansion of advanced computing in the 21st century."https://t.co/b5K2Nmgt81
July 31, 2018
---
Quiz answer
Binance Uganda (supports the Ugandan Shilling)
"Uganda [is a] really interesting situation, only 11 percent of the population has bank accounts. It's both a challenge and an opportunity. So it may be easier to adopt cryptocurrency as a form of currency instead of trying to push for bank adoption." — Changpeng Zhao, the CEO and founder of Binance
---
Thanks for reading this latest edition of HashRate!
Do you know of a blockchain technology project currently deployed that is solving a real problem in a global market? Is there a token you are currently using in emerging markets? We would love to here more about it — get in touch with us here!
Since June 2016, we've been helping subscribers learn about the adoption of cryptocurrencies across global markets. Not yet a subscriber? Sign up for HashRate here!